Akateko
(H) 100cm x (W) 100cm
(H) 39.37" x (W) 39.37"
Acrylic on Canvas
Originating from the Intelevisionary series Akateko is a metamorphosis from mechanical into natural. A vibrant clash of colours and textural brushstrokes drawing inspiration from ancient Japanese mythology.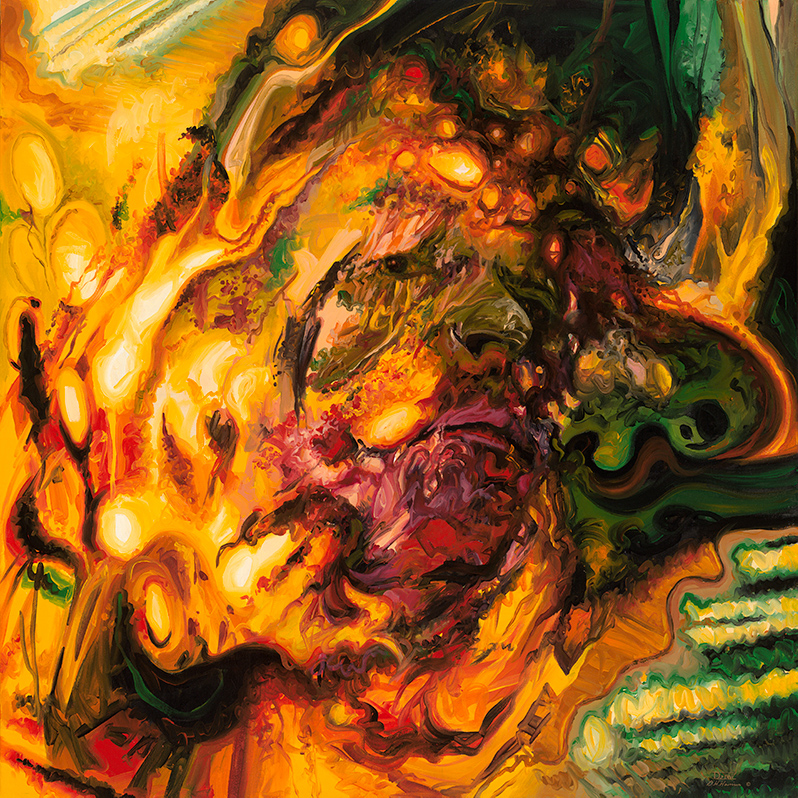 The Impostor
(H) 100cm x (W) 100cm
(H) 39.37" x (W) 39.37"
Acrylic on Canvas
This work is one of two self portraits painted in 2017, each representing a different emotive state. Both paintings evolved from a sketching process where the aspiration to produce contrasting results was a motivator. My intention with 'The Impostor' was to create a projected amalgam between persona and artistic practice. The ghost like shapes and golden colours are a direct connection to my painting process and the flows of paint that form within a palette when in the state of creation. These swirls have been entwined to shape flesh, skin and blood where it remains unclear whether the paint forms my portrait or the portrait defines the almost burning celluloid surrounds - a creator hidden behind paint and camouflaged.
The Impostor is now available exclusively as part of the Acoufelt Art Project. You can now own a high quality reproduction of this work printed on acoustic material for sound reduction in living and work spaces. Enjoy art in absolute peace and quiet!
Click here to view product options for The Impostor.
BRUTAL
(H) 100cm x (W) 100cm
(H) 39.37" x (W) 39.37"
Acrylic on Canvas
$2500 AUD incl shipping
Click here for further details and to buy BRUTAL exclusively online from Bluethumb Art.
A self portrait was a means to delve further into my inner workings as an artist. As a result, the chosen interpretation is a dichotomy of style and psyche. BRUTAL evolved from several frustrated sketching sessions and is an uncompromising projection of that process in paint. Deliberately chosen lurid colours punch through the black conjuring a reflection much like looking into the screen of a device. It evokes the experiences of inner turmoil and doubt that I navigate when painting a new work while the underlying subtext explores a perceived fading of traditional art in a digital world.
New Works
Welcome to the New Works Gallery of contemporary and fine artist Drew Harrison.